By His Wounds Intensive Healing Conference, 2019 – DAY ONE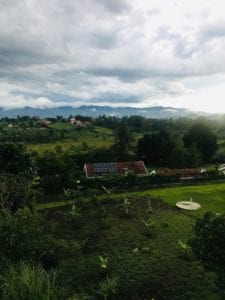 Fort Portal, Uganda—at the base of the "Mountains of the Moon," the Rwenzori Mountains
When I consider Your heavens, the work of Your fingers,
The moon and the stars, which You have ordained;
What is man that you take thought of him,
And the son of man that You care for him?
You have made him a little lower than God,
and You crown him with glory and majesty!
—Psalm 8, NASB
Sixty church leaders from four refugee camps in western Uganda were sponsored to attend Mending the Soul's By His Wounds Intensive Healing Conference in Fort Portal, Uganda. Your financial support is allowing us to offer 48 hours of trauma care to each leader. Today we began with the teaching from Psalm 8 and 139 on the elegant and unique original design of each man and woman. The trauma levels of this group are so high that it was difficult for them to identify even a few positive personal strengths or traits. It was the first time they had heard this teaching from the Scriptures. They are receptive and eager to heal. Thank you for making this possible.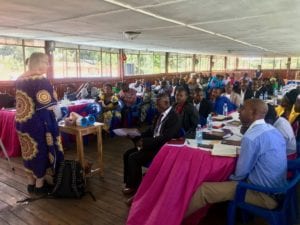 As we said our good-byes a torrential rain came in and began to pour. These leaders are so hungry for help because of the thousands of youth and children that are under their care. While we were getting soaked and the wind was whipping around our legs, several bishops stopped me to ask about our coming back to help them pass on all that they have learned! This kind of urgency and costly compassion doesn't surprise me anymore. It just makes me cry. Tears of joy… at the incredible privilege it is to come and care for these precious shepherds. We will give them our lives!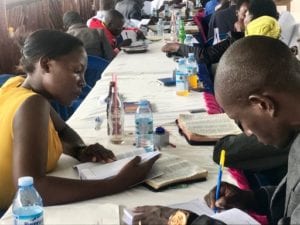 Jumah Patrick, Mending the Soul's Africa Director, along with his team of trainers will be following this training up with a year of aftercare services for each leader to help them implement the training they are receiving this week.
With your partnership, you are giving each of these leaders the exquisite gift of compassion and healing, all experienced within community with each other.
O LORD, our Lord,
How majestic is Your name in all the earth!
Watch an update and thank you from Celestia Tracy while in Africa.