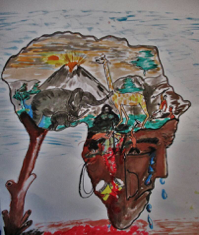 O come, O come, Emmanuel
And ransom captive Israel
That mourns in lonely exile here
Until the Son of God appear.
Rejoice! Rejoice! Emmanuel
Shall come to thee, O Israel.
Rejoice! Rejoice! Emmanuel
Shall come to thee, O Israel.
O come, Thou Day-Spring, come and cheer
Our spirits by Thine advent here
Disperse the gloomy clouds of night
And death's dark shadows put to flight.
Rejoice! Rejoice! Emmanuel
Shall come to thee, O Israel.
Rejoice! Rejoice! Emmanuel
Shall come to thee, O Israel.
In church on Sunday we opened worship with this hymn. As I sang, my eyes ran like rivers of water over the destruction of our brothers and sisters (Lamentations 3:48-50) in East Africa. Never before have I experienced the depth of longing for the coming of Christ and His beautiful promises as I am this year.
While we were celebrating Thanksgiving this year, some of our Congolese Mending the Soul families were burying 27 brothers, sisters and children because of another senseless massacre. Earlier this past week one of the primary Congolese aircraft carriers, Busy Bee Airlines, reported a plane crash that was carrying believers we knew and loved; one couple leaves three children behind. Over the past month, loss of life and suffering is mounting as political unrest increases. Congo remains invisible to most of the world and yet the west relies daily on its minerals.
However, Congo's church is very much alive and with it a profound strength and faith in the future fulfillment of Christ's promises upon Jesus' return. Our African brothers and sisters are not only watching and waiting for Christ, they are working tirelessly to bring Emmanuel (God with us) to the dying wasting away in Ebola clinics and to the grieving ones who have lost everything. They have no human reason for hope, and yet they challenge ours.
As we continued to sing the ancient carols, I thought about how we are not only celebrating the birth of our Savior, but we're also to be preparing our hearts and growing in anticipation for Jesus' return. A return that we may actually witness during our lifetime.
Our African family has changed our lives; they have taught us what love looks like. They've given us a rich theology of suffering, that has shown us how to really mourn, and as Jesus promises, to know His comforting presence in the midst of pain. We long to be with them during this advent. To be, God in skin. Together. To let them know they are not alone. That we love and feel and ache and trust with them for the fulfillment of promises of justice and shalom such as this one:
"But for you who revere my name, the sun of Righteousness will rise with healing in his wings. And you will go out and leap like calves released from the stall. Then you will trample the wicked; they will be ashes under the soles of your feet on the day when I do these things," says the LORD Almighty (Malachi 4:2-3).
Suffering reminds us that this world is not our home. That we are to extend hope and tangible help to those without comfort. May we move towards, and not away from, those in pain so that we can experience all that God has for us to know in this advent season.
Together, as we tearfully yearn for what is promised, but not yet fully realized, may we be "sorrowful, yet always rejoicing" (2 Corinthians 6:10).
When the song of the angels is stilled,
When the star in the sky is gone,
When the kings and princes are home
When the shepherds are back with their flock,
The work of Christmas begins:
to find the lost,
to heal the broken,
to feed the hungry,
to release the prisoner,
to rebuild the nations,
to bring peace among others,
to make music in the heart.
—Howard Thurman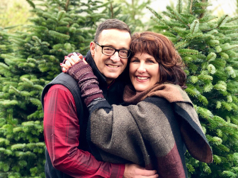 In hopeful expectation,
Celestia & Steve
Mending the Soul Founders