Let love be genuine…Weep with those who weep.
—Romans 12:9, 15
You came to me today. Not in a way I expected.
Last week I realized that we've begun advent and I looked around for a Christmas book to guide me: something articulate, clever, artistic. I had none of those things in front of me. Just You.
I was in pain. Lots of it. Yesterday I sat in my doctor's office (ostensibly for physical and neurological pain management yet as we now know physical and psychological pain are bound together in inseparable ways). God uses this man to open hidden heart doors. He loves MTS and asks often about our work. As soon as I began to share tears streamed down my face… for all that's broken in this world. For those I love and know intimately and for those I don't know; the ones beyond my reach. Abuse and trauma changes us. We're repulsed and want to turn away from that dark pain.
I told him of the transformative work you, our MTS caregivers offer others. (Caregiver is really such a ridiculously minimizing word for the costly requirements of the role — I'm changing it now to pain specialist.) Men and women who have boat loads of personal suffering of their own, and yet, they are the ones who run back to the caves to help those who have suffered in similar ways. These pain specialists empathically carry not just their own pain but the pain of others.
I asked why he thought there were so many gaps in the world for trauma care, why we have whole populations of people who are oppressed and vulnerable and marginalized without adequate spiritual and psychological support. "That's easy to answer" he replied, "as people, we don't want to look at what is painful, or get close to it. Denial — in one short word." He was right, of course.
This wise doctor reflected a truth back to me that I know, but needed to hear again. Once you see suffering and allow it in, you cannot un-see or un-know. You have been changed. Forever. There is no going back.
On the way out of his office he asked me to invert a quote by Jean Rostand and to think about it:
"Kill one man and you are a murderer, kill millions of men, and you are a conqueror. Kill them all, and you are a god."

"Save one person and you're a therapist, save many people and you're a MTS facilitator or foster parent or mentor. Save them all and you're God."
I, you, must grieve those we can't help. Grief is such a tidy sounding concept, with neat edges and clean borders. Yet, grieving is expressed in all sorts of messy ways: sobs, a stomach that feels full when it's empty, wooden legs, swollen eyes, dulled mind, ringing ears, disrupted sleep, unbidden images, the crackle of anger, an eerie pull towards a dark vortex of fear. Loss of hope.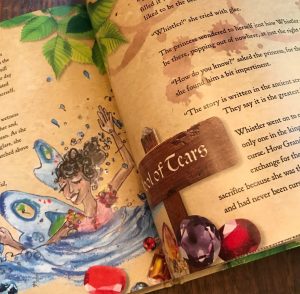 Advent has begun and I'm grieving. This morning I desperately needed imagery of truth to ground me again. I let my unbidden tears come and closed my eyes. I could feel the lies swirl in the black smoke and could see what looked like a lion's paw, with it's yellow claws extended, ready to kill with one fierce swipe. I prayed through that image and watched the paw retract until it was invisible. In its place God sent the image of the grandmother's pool of tears in Princess Lost (pg. 44-45). I felt the strength of this truth. God's tears were streaming down my face, His tears of compassion and mine and yours, shed for those we hold near. Healing water for others created out of the costly and sacred gift of compassion.
Let us draw near to God with a sincere heart in full assurance of faith,
having our hearts sprinkled to cleanse us from a guilty conscience
And having our bodies washed with pure water.
Let us hold unswervingly to the hope we profess,
For he who promised is faithful.
—Hebrews 10:22-23
How like Christ you are as you sacrifice your not-knowing for knowing, and carry another's pain as if it is your own. In this season of advent may we embrace the gift of tears and know that we'll find Christ there. He is wildly at work accomplishing His purposes of love in a shattered world, through you.
Celebrating Jesus,