Dear friends
I finally have reliable internet again. God continues to bless our trip in amazing ways. Our last day in Juba, South Sudan was very unique. We spent a couple hours with two Pastors and heard incredible testimonies that we are still processing. We were told by the ALARM staff that we needed to meet with Pastor B because his story was one of the most powerful of any at our conference. We met with him the morning we left and ALARM was not exaggerating.
B is from the minority tribe in this region. Shortly before Christmas, violence broke out in Juba and thousands were killed. He was picked up by the military along with about 40 others in his tribe and taken to jail where they were beaten. A few hours later soldiers yelled from outside the cell window for everyone to stand up. When they did rifle barrels were shoved through the windows and everyone was gunned down. By the grace of God he was the only one not hit. He hid under bodies for hours and was finally able to sneak home. When he arrived his family thought he had been injured seriously as he was covered in blood. But his ordeal was not over. The next night soldiers surrounded his house and attacked. His only surviving immediate family member, an adolescent daughter, was killed by a grenade along with his brother and nephews and nieces. He then fled to the refugee camp where he is still living with only the clothes on his back.
What was most incredible was hearing him vow that he will never resort to revenge against his family's murderers because "this is not the way of Jesus and I follow Him." He also thanked us profusely for our trauma training and said that every Christian and political leader in South Sudan needs to receive this training. He was ready to start organizing the conferences. It is still very dangerous for him in Juba so we helped him get out of the country until it is safer for him. We were so grieved to hear his story and terrible losses but so encouraged at how much our training had encouraged and helped him.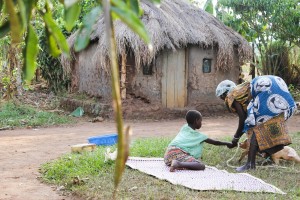 I had a great 4 days in Uganda with Abby and David and their boys. I preached at their church, did a staff training on parenting, assisted the boys and uncles with rebuilding a neighbor widow's mud walled home, and did a short training for the boys on becoming a godly man. We even had a little excitement when Bob, one of boys killed a small cobra on the path between the homes. Nora and Shanell had a wonderful 3 day training for 75 village women. Their report is under the blog post "Africa 2014 Update 8."
Celestia, Pastor Christopher, and Nicole arrived two days ago from the US. We are now in Kigali, Rwanda. Today we kicked off the 3 day trauma training for 30-35 Rwandan leaders who serve at African New Life Ministry. They have gathered amazing leaders. Rwandans have a very hard time opening up regarding their traumas (no wonder given all they have been through). The sharing today was incredible. Many told us they have never dealt with the trauma they experienced here and are so grateful we are doing this conference.
We felt the impact of your prayers powerfully today. Tomorrow we will teach on shame and trauma, the spiritual impact of trauma, and the biology of trauma. We are giving them many small group exercises which they are loving.
Today was a miraculous day. We felt the Spirits presence powerfully. We are so grateful to serve a risen savior who still heals.
In Christ
Steve and Celestia