How do I summarize the last week and a half? We're almost finished with our second "By His Wounds—Trauma Healing for East Africa" seminar. What a humbling privilege it's been for us to be invited into Kigali, Rwanda on the 20 Year Anniversary of the Genocide. In many ways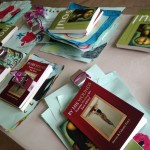 Rwandans have been stuck in a frozen grief, silenced by the horror of the atrocities they've endured. By His Wounds is a healing model for communities in East Africa and was birthed after seven years of MTS trauma trainings in the Congo, Uganda, South Sudan, and Rwanda. Pastor Charles invited us in to bring support and healing to his Africa New Life staff and the beautiful young women of Esther Home. What leaders they are!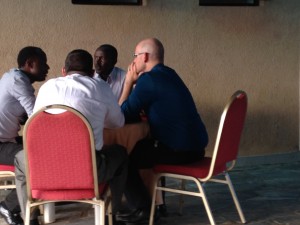 They're gifted yet humble and courageously moved into their stories for the first time in their lives. Words cannot adequately express our joy in facilitating such a sacred process. These men and women are more beautiful than words can express—they're the remnant of Rwanda. Many have lost over half of their immediate and extended families and are haunted with memories of hiding in bushes while their parents were killed in front of them. I cannot imagine such evil, poured out over this beautiful land. Satan can throw the worst that he has at us but Christ's shed blood heals. "Greater is He that is in us, then he that is in the world" (1 John 4:4). James Van Fossan's paintings were used to guide imagery connected with the truth of God's Word. Pastor Charles described the seminar's outcome as a revival.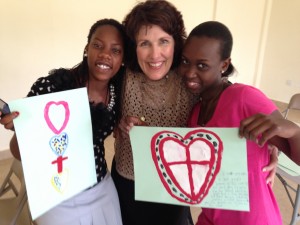 Mending the Soul has been invited back next year at the same time for a "Week of Hope" that will culminate in a "Night of Hope," coordinating with the week long remembrance in Rwanda. Pray with us as we partner with Africa New Life and support ACT in training and developing MTS certified counselors that will offer, in time, the safe comfort they've received.
I will leave in your midst a people humble and lowly.
They shall seek refuge in the name of the Lord,
Those who are left… they shall do no injustice and speak no lies,
Nor shall there be found in their mouth a deceitful tongue.
For they shall graze and lie down,
and none shall make them afraid.
The Lord has taken away the judgments against you,
and has cleared away your enemies.
The King of Israel, the Lord, is in your midst;
You shall never again fear evil.
On that day it shall be said:
'Fear not, O Zion; let not your hands grow weak.
The Lord your God is in your midst,
A mighty one who will save;
He will rejoice over you with gladness;
He will quiet you by His love;
He will exult over you with loud singing.
I will gather those of you who mourn for the festival,
So that you no longer suffer reproach.
… I will save the lame and gather the outcast,
and I will change their shame into praise and renown in all the earth.
And at that time I will bring you in,
at the time when I gather you together;
For I will make you renown and praised among all the peoples of the earth.
         —Zephaniah 3:12-20
Thank you for holding us up in prayer!
Steve and Celestia for our whole team