Dear friends,
We finished the third and final day of our Esther Home conference for about 30 college women. We have rarely seen such dramatic changes in a 3 day conference. They were extremely reserved the first day and we weren't sure we were getting through. They say here that if Rwandans didn't swallow their tears they would drown. In other words, they can't afford to feel emotional pain, mourn losses, or to cry because if they started down that road they might be completely overwhelmed. Of course, shutting down painful feelings doesn't really make the pain go away, it just makes it harder to deal with.
By the second day they were a different audience. Thank you for praying. They were all there on time anxious to start (and this is final exam week for most of them so they would have many excuses for being late). They really got into the expressive art exercises. Celestia is so creative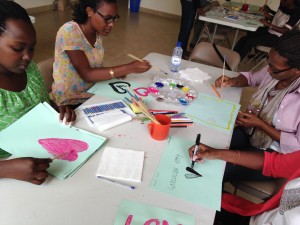 and designed great exercises to help them start unpacking their hears. We taught them principles for creating safe sharing groups and many began to share their pain for the first time in their lives. Can you imagine losing your whole family in a genocide when you were a child and never processing that with another person? It is amazing theses girls are able to function at all. Once they got started they really got into the exercises and the sharing. Over and over we heard how God used this conference to begin to heal deep heart wounds. We heard the same thing from the executive pastor today after he met with his staff who attended last week's training.
It was such an honor for us to be entrusted with these amazing Rwandans' painful stories. We all long to be understood and cared for. Pain is so hard to endure alone–especially this kind of overwhelming pain. One dear young woman shared with Celestia that she was 5 when the genocide took place. Both of her parents were killed and to this day she doesn't know where their remains are. She fled to the marshes hiding from the killers for weeks with no other family member with her–they were all gone. One of here strongest memories is of being out in the open night after night while the rain poured down on her. Can you imagine how triggering rain storms are to her now? But as horrible as all that happened to her 20 years ago in the genocide was, she said that what has been the hardest thing in her life is carrying this pain and never having anyone who she can share it with. She had never done that until this conference.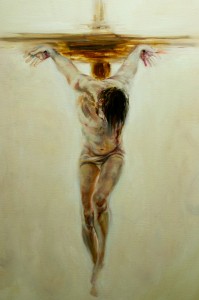 The art work of Jesus which James Van Fossan did for this conference was especially powerful. Apart from a suffering Savior we would have nothing to offer these genocide survivors. But we do bring Jesus and he is the master healer and lover of our souls. He has really shown his love to these survivors this week.
So please pray with us that God will guide African New Life leaders and the Esther Home Girls in continuing with the healing work they have started with each other. Pray that they will have the strength and courage to follow through in creating small healing groups to go through the exercises in the book we gave them.
Pastor Fred says they want Mending the Soul to come back for the next 5 years to help them. We'll take this one year at a time but this is so encouraging. God is doing a great work here.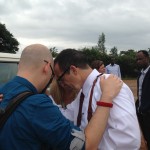 Tomorrow Celestia, Nora, and I travel to the Congo for a series of short trainings. We are pretty exhausted right now so pray that God will give us strength and good health. Celestia's health has held up well so far, thank the Lord. Please pray that we will not have any trouble crossing the Congo border. Please pray that God will direct in our 5 days in the Congo and that we can be a great encouragement and help to the leaders we train and consult with.
We appreciate your support.
In Christ,
Steve and Celestia