Our team arrived safely in Arua on Monday, May 14. We went to the bidi bidi refugee camp that day and saw the dire conditions of the refugees firsthand. The ground where they are living is very rocky with poor soil for growing crops. In addition they are in a drought so the crops they have planted are barely growing. One pastor told me that food in the camps is so inadequate now that wide spread hunger is leading many of the refugees to return to SouthSudan in spite of the great dangers which still exist there.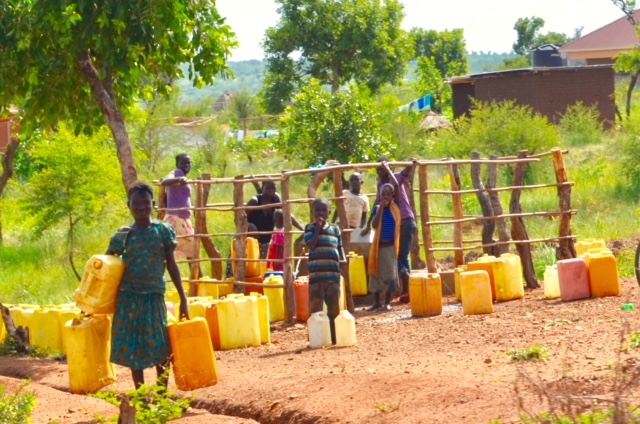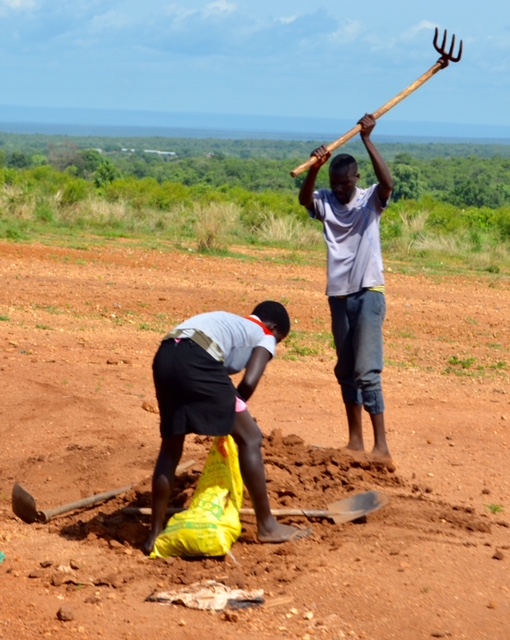 Training Day #1
We launched our conference with 51 very energetic church leaders, including 16 women along with one baby. These are among the most eager leaders we have taught. They jumped right in, hungry to experience and offer trauma healing. Their expressive art exercises have been very powerful, particularly their pictures and descriptions of their heart wounds as well as their pictures of God the Father's love for them. Their perseverance in serving and following Christ under such severe trials is a great encouragement to us.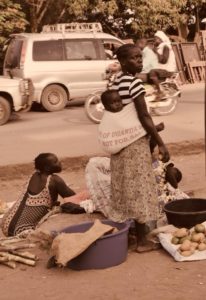 Today's teaching was very challenging for them and us. We had so many questions after the lesson on Satan and trauma that they didn't want to go to lunch until I answered more of their questions. We ended the day with me teaching on the value and dignity of women. In the introduction I let them describe how women are viewed in their culture. They said women are like donkeys and cooking pots-mere objects to be used up by men. It was a very painful session. They fired away with questions when I finished. A few became rather hostile. We could keenly feel satanic opposition along with some very helpful insights from several attenders. Addressing abuse trauma here really does puts one on the front lines of spiritual warfare.
Training Day #2
The start of the second day brought some sharing which showed that the men listened and learned by repeating back what had been taught. The women's sharing showed that they had already started to incorporate the teaching into their thinking and processing. One woman spoke of placing the teaching not only in her head but also her heart. All participants expressed thankfulness that the MTS teachings on trauma are not only based on research but is grounded and stems from the Bible. Other comments expressed the high degree of spiritual abuse within churches.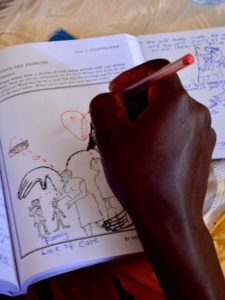 Wounds of the heart were shared:
Loss property
Loss of education
Loss of husbands
War
Insecurity
Neglect
Insult
Gossip
Training Day #3
The men and women shared their views of the traditional role(s) of women in their culture. They were all in agreement that the woman is the home and child caregiver, keeper of the "garden" or planted crops, washer, and cook. A few men shared that they are "producing machines" or "donkeys," beasts of burden. The women also run small businesses selling small crops or handcrafts.
Steve presented the biblical portrayal of women, so different than what has developed in cultures. Genesis 2:18 states the woman is the "helper," but not meant to be laborer or slave or underling. Also, the helper was made to be suitable; different but complementary. The female form came from the side of the man, under the arm for protection and close to the heart. The woman was also made in the image of God and was the final creation; not secondary or of less value. This was accepted biblically, but countered what culture has taught. There was much struggling with this view from the men but they recognized the truth in the scriptures and the Word of God.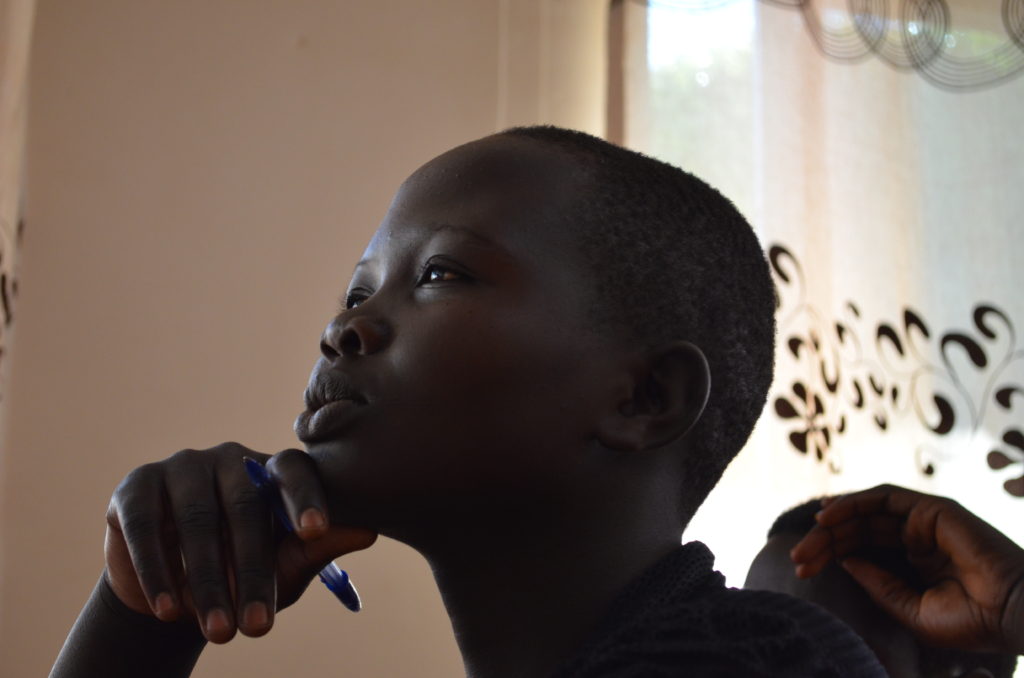 Further teaching on the role of women in the church and the New Testament scriptures portraying Jesus acceptance of women in His ministry and His uplifting treatment of them showed that culture has distorted Gods view of His creation. There was much discussion, questions, and angst amongst some men. Bible, culture, culture, Bible. The whole Scripture within its context, all agreed, is where Truth resides. It is the church that must change culture so as to untwist the lies that have distorted the role of women. Value. Dignity.
Training Day #4 & 5
Loneliness and the feeling of being unwanted is the most terrible poverty. The hunger for love is much more difficult to remove than the hunger for bread.
– Mother Teresa
God lives in perfect relationship within the Trinity, and He made us to be in relationship with Him and with others. On day four we learned that trauma and abuse brings on shame which separates us from relationships. Our fear of people discovering or talking about what we have done or what has been done to us keeps us from being with others. Lack of relationship brings on loneliness, insignificance, and isolation. Life becomes too much and overwhelming. Anger, resentment, anxiety, sadness, and depression spirals a person down into the depths.
We begin to feel rejected and of little or no value. We believe our isolation is now as a result of others. We see this not only today but in Scripture through Lamentations, Job, the Psalms, Habakkuk, and Jeremiah. "God has driven me away." "Why do You always forget us?" "Why have you rejected me?" "Why do you hide your face?" We develop fear and doubts of others. Lack of trust. We see this in Scripture as well. Fear of family and friends, fear of God, and fear of self.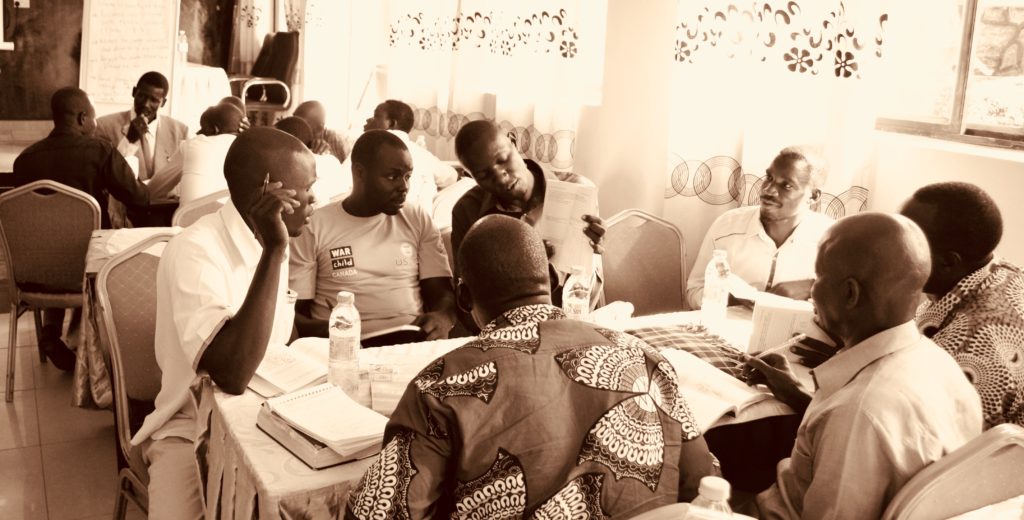 Rebuilding relationships and rebuilding healthy intimacy takes safe people, secure surroundings, and stable truths. We learned to hand the shame back to the abuser, that their actions upon us are not our fault and the guilt and shame is theirs to carry. We learned to allow others who are safe and trustworthy to walk alongside us. To share our struggles, to share our pain, to share our fears. Scripture asks us to do this with God, to walk with others, and outwardly express our sorrows and shame. "Rejoice with others, weep with others." "Carry each other's burdens, and in this way you will fulfill the law of Christ." Intimacy is rebuilt relationally, not in isolation.
This was emotionally difficult for the refugees and required safe boundaries and solid truths to stand on. Our stories, our sharing, our continuing presentation of Scriptural truths allowed them to slowly open up. We gave them the opportunity to express their own cries of the heart, their own laments, in writing and in picture. Time was short after a long day, but they chose to stay longer so they could share with one another. They then separated into small groups; men with men and women with women. Shared pains in healthy trusting relationships is healing.
Thank you for your commitment to the work done across the world and your continued prayer and support. God is truly moving in East Africa!