You greeted me this morning early, before dawn
You are like that—full of surprises.
Today is Good Friday—the day of your deepest anguish and humiliation.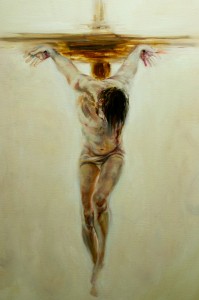 You prayed alone in a cold garden
Betrayed by your closest friends
Slapped, stripped naked, beaten
Disbelieved, declared a liar
Mocked with a purple robe
Crowned with thorns
Hung between felons
Crucified.
You, the innocent lamb,
You, the gentle tongued fisherman, friend of the oppressed.
You, the Son of God,
Laid down your life all for love.
You came to me this morning in the rain.
My eyes adjusting to the dimness, straining to see.
I heard you first—
A small, steady roar that grew as I prayed,
Invisibly into a holy cacophony.
I listened, feeling the cold dampness on my skin;
Straining to see you but I could not.
Yet you were there—making Your presence known through the roar of Your love.
My faithful friend; my doting Father;
Lover of my soul.
You not only pierced the darkness of this world,
You pierced the darkness of me.
You've pierced me.
With Yourself.
Divine Love.
Mine.
"This is my commandment, that you love one another as I have loved you.
Greater love has no one than this, that someone lay down his life for his friends."
—John 15:12-13