"Great hearts can only be made by great troubles.
The spade of trouble digs the reservoir of comfort deeper,
and makes more room for consolation."
C.H. Spurgeon
Who could have imagined a few weeks ago that we would be experiencing a viral pandemic which would virtually shut down our country? Who could have predicted that there would be no athletic games, public events, or even open restaurants for the foreseeable future? From mundane inconveniences such as nonexistent toilet paper to physical and economic catastrophe in the forms of life-threatening disease and a ravaged stock market, life as we knew it has ended abruptly and unexpectedly. The future is uncertain and unsettling. Or is it?
A few days ago I contacted our dear Congolese friend Katavo Jean Pasteur. This is a man who, with his pregnant wife Daphrose, spent weeks fleeing the Hutu killers in Rwanda when the genocide broke out. Then he and his family lived through two Congolese wars, countless rebel attacks, kidnappings of many of his friends and relatives, and most recently the Ebola epidemic. He continually faces life threatening dangers, often as a result of his ministry to those in places of greatest need. I asked Katavo what words of encouragement he has for us as we face the corona crisis. His initial response was as concise as it was potent. He said, "God is still on the throne." What a beautiful faith filled perspective! Currently we are shocked at how much has changed so dramatically and quickly. But in actuality, nothing of ultimate importance has shifted. Our God is just as loving, powerful, and wise as he has ever been. He still sits on his throne. He has good plans for his people. We can trust him amidst these temporal losses and uncertainties. These truths provide a much needed anchor for our anxious hearts and minds.
One of the best expressions of this truth is found in Psalm 46: "God is our refuge and strength, a very present help in trouble. Therefore, we will not fear though the earth gives way, though the mountains be moved into the heart of the sea…The Lord of hosts is with us; the God of Jacob is our fortress" (v. 1-2, 11). In other words, no matter what crashes down around us, God won't forsake us. He is with us and for us. He is a trustworthy fortress when everything else we thought we could count on evaporates.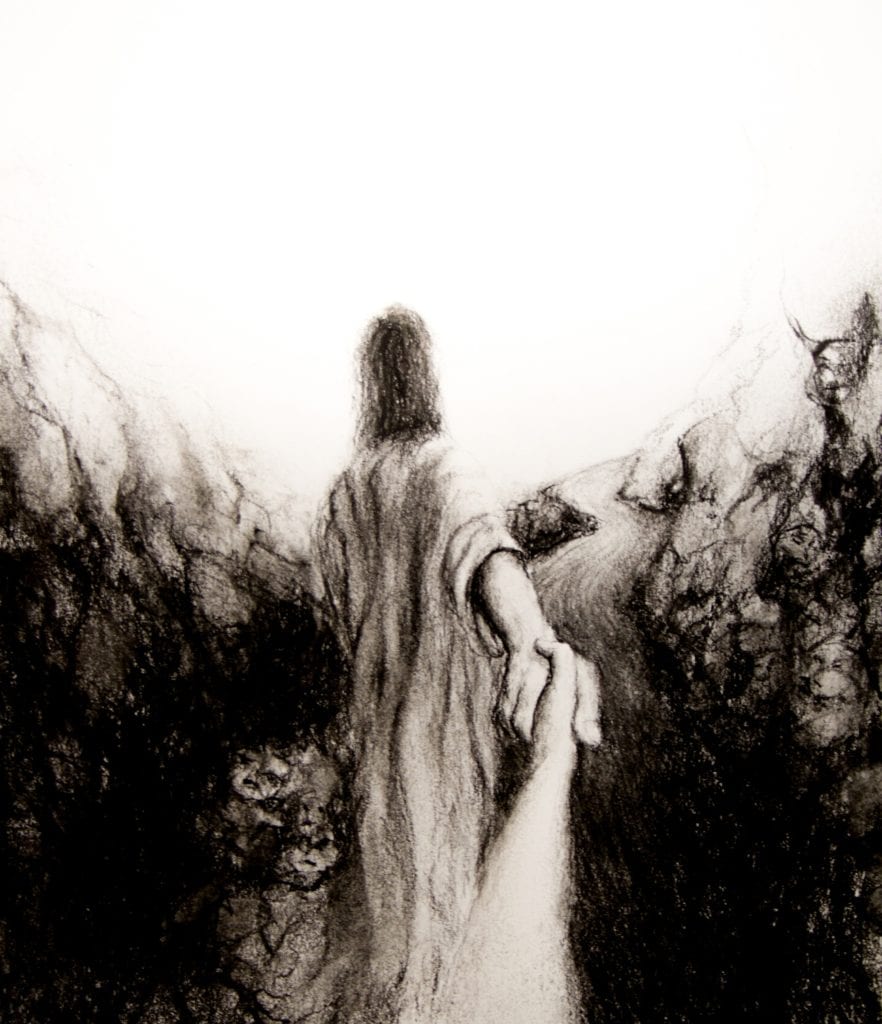 Because our God still sits on the throne, we can experience peace and even grow in this crisis.
Specifically, the coronavirus gives us the opportunity to:
1. Clarify our values.
The coronavirus can powerfully help us assess what we are really living for. While our health, finances, and daily routines are important, they are not of ultimate importance. Our bodies and our bank accounts will eventually fade away. In our land of abundance, it is so easy to lose sight of what is really important and what is really worth living for. Only God and other people will live forever. I'm asking God to use these temporal losses to help me purify my priorities. And I'm asking God to use this crisis to wake up our materialistic society to the brevity of life and the importance of pursuing that which has eternal significance.
2. Deepen our intimacy with Jesus.
One of the most powerful truths we witness daily at MTS is that God delights in redeeming evil and loss for good. One of the primary ways he does this is by using trials to purify our faith and draw us closer to Christ. This is precisely the truth Peter gave to first century believers suffering severe trials for their faith. He reminded them that those painful "fiery trials" are used by God to purify their precious faith the way a hot fire can purify gold (1 Pet 1:6-7). I have been blessed beyond words to know countless individuals who are absolutely overflowing with joy, faith, and love. In virtually every instance these are people who have faced severe losses and pain. God used those losses to deepen their dependency on and intimacy with Christ. When trials come, including the corona virus, we can allow them to drive us to prayer and to reliance on Jesus. In the process we can experience a heightened intimacy with Christ we never thought possible.
3. Serve others.
It remains to be seen how costly the coronavirus will be. What is clear is that people are hurting because of it. And those who are the most physically and economically vulnerable will generally be hurt the most. We are entering a time of great opportunity, a time for the body of Christ to shine in offering the tangible love of God to those in need. There are individuals in sudden need of housing or meals, isolated neighbors in need of a loving phone call, elderly friends in need of transport. Historically, believers have stepped up during crises. In fact, one of the factors in the incredible growth of Christianity in the first few centuries of church history was the sacrificial response of believers during times of plague. It was Christians who cared for their needy sick neighbors. Now God is giving us an opportunity in the 21st century to show our needy, anxious neighbors what Christian faith and love looks like. Let us not miss this opportunity. For our MTS family, we pray that God will guide you in taking the lessons he has taught you as you have dealt with your abuse trauma to share in word and deed with your neighbors facing economic, social, and physical trauma.
Please be praying for the staff and board of MTS, particularly for God's wisdom. Please let us know if there are specific ways we can pray for you. We greatly appreciate your ongoing financial support. We need it now as much as ever so that we can continue to offer redemptive hope to those in pain.
Your fellow servants of the One who still sits on the throne,
Steve and Celestia