Do you make New Years resolutions?
Resolutions to bring about a whole new you, and start the new beginnings we hear people talking about. That was my experience year after year, or sometimes Monday after Monday during the year. It was this goal to somehow forget the "old" and have that bright "new" beginning.
I would resolve to no longer remember or to rise above that pain, rejection, and hurt I experienced. In fact, I would resolve to "Move on" and "Get over" or even "Forgive," so I could have my "New Beginning."
However, this just didn't seem to work for me.
Instead, old feelings would spring up at the least expected time, and before I knew it, words and actions in response to feelings of resentment and hurt would come pouring out of me to heap coals of fire upon those closest to me. Those are the people who bears the brunt of our traumatic past, the ones God has placed in our homes, in our families.
Where were my "New Beginnings?"
They'll rebuild the old ruins, raise a new city out of the wreckage. They'll start over on the ruined cities, take the rubble left behind and make it new.
– Isaiah 61:6 (MSG)
This passage changed my perspective on "New" Beginnings. Rather than attempting to forget the past, stuff it down, and move on, building upon the "past" with all its brokenness, pain, and ugliness is where "new" beginnings emerge. Integrating past experiences and utilizing the wisdom afforded from those experiences allows for processing through the feelings.
Resentment and hurt changed to insight, and yes even gratitude, as I realized what an incredibly deep, wide, and thorough foundation was possible for my "New" beginnings, out of the most horrendous trauma I had experienced.
I hope this inspires you in this new year, and I pray that God uses the rubble of pain and abuse in your past as the foundation for the healing and whole new city He has planned to through you in 2018 and beyond!
---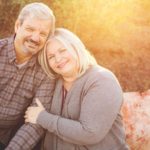 Shanell is the Facilitator Support Manager for Mending the Soul. Her favorite part of life is behind a wife to Roger Bender and mother to their seven children. She has ten plus years working with survivors of trauma. Her previous roles included Victim Advocacy, Trainer/Educator for Darkness to Light and Facilitating for Mending the Soul.