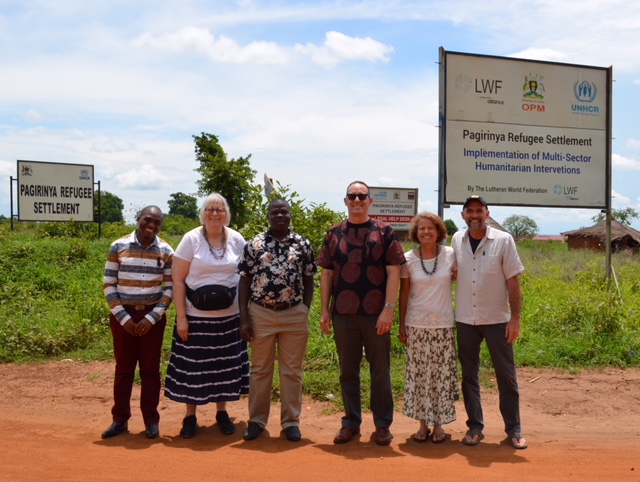 After a 1.5 hour flight last weekend, the team arrived in Adjumani. The refugee camps are only 18 miles away, but due to the road conditions it takes us one hour one way to drive there. Though we arrived road weary and jostled, our greetings by two local pastors made the trip worthwhile.
We first met pastor Santos and then pastor Lawrence. Both feel very blessed because they each have their own church buildings made of the UN tarps, poles, and metal roofing that had been donated by churches in Europe. Before they had their church buildings, both churches met outside under large mango trees for shelter from the sun and rain. When asked how we could pray for pastor Santos and his church, he simply asked to pray for more chairs; they only have 15 for a church of 100! And also for prayers that more in the camp would come to know Jesus.
Both of the pastors have been living in the refugee camp 2-3 years. People there struggle to obtain enough food, especially if they are not registered. Registration happens infrequently, and with few computers to process the newcomers pouring in daily. In truth, the families here are much better off with garden plots of corn, sweet potatoes, and other vegetable, compared to the BidiBidi camp where MTS will go next. However, what they grow is small in comparison to how much they need to eat properly.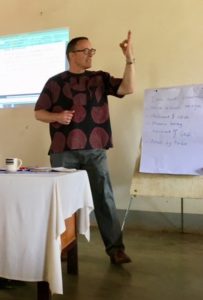 They have access to clean water as well as plenty of proper outhouses at the Adjumani camp, but the mosquito nets supplied do not last long in the rain and mud that surrounds them. Many refugees have built small circular houses on their tiny plots to replace the tarpaulin tent they were first supplied upon arrival. Women must travel into the bush lands beyond the camp to gather grasses for the thatched roofs, which puts them in danger of assault, but without the thatching they have few options that will last through the winds, rains, and beating sun.
This last Sunday, we made the trip to the camp once again to join the pastors at their respective churches. Steve, Nora, and Jumah attended pastor Lawrence's church (a church that pastor Moses and Bishop Jumah helped plant), and Kim, Kurt, and Kisiya, who is joining us from Tanzania, attended pastors Santos's church. They asked for someone to preach at both churches, so Steve preached at one, and Kim at the other. They both were able to give the congregations a taste of the MTS model, and hopefully were able to leave the attendees with a bit more hope than they started the day with.
As always, worship was heartfelt, and included great dancing. Kim joined in with the dancing and clapping as well, but mostly because she had accidentally sat in a chair that had been placed on an ant's nest, and they began crawling up and biting her legs! Momma Nora got to hold a small baby dedicated at their service, and Kim, Kurt, and Kisiya were able to pray for the people of the church they attended. Prayers for healing, for the ability to conceive, and for healthy children. As you can see, despite the difficulties in their lives, their prayer requests and church events are much like ours.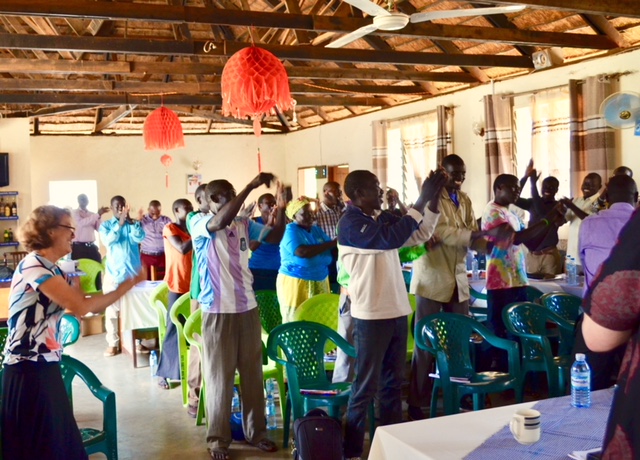 We were so thankful to be welcomed, and look forward to the amazing thing God will do at the conference this week!
Please pray for the team and attendees in the following ways:
For the health of the team; both Steve and Kurt are struggling with a cough and chest cold which impacts their ability to speak and rest well.
The first of two conference trainings going on right now; that the conference room works well, and that the electricity stays on so that the fans will work to keep us cool.
For the pastors who will be attending; that they can all make it and feel the tug to come despite what might keep them at home.
The trainings themselves. The men and women coming have faced so much trauma. Please pray that we are sensitive to each individual's needs, and that we will bond well as a group.
Please keep our families and the leader's families in prayer, as we know Satan would love to disrupt this training in anyway possible.