Advent is a profound season in the Christian calendar. We celebrate Jesus coming into our world to bring redemption and life. And in our western culture, we have a host of evocative traditions, music, even decorations which denote the Christmas season. Our minds are flooded with feelings and memories when we hear certain Christmas songs, taste traditional Christmas foods, and enjoy certain Christmas traditions. Most of us can quickly, even vividly recall memorable Christmas season events. One of my most vivid and ecstatic memories is of Christmas day 1978, eating in a casino, the only open restaurant on Christmas day in Carson City Nevada. Celestia and I were on our honeymoon. That was 40 years ago and yet I can still vividly recall looking at my beautiful new bride, enjoying her gorgeous smile, and laughing at her cheeks made red by the frosty air. I fondly recall numerous other Christmas seasons: our first Christmas living in England fascinated with curious new traditions; the 1983 Christmas we enjoyed with Elizabeth, our delightful first-born child who was only two weeks old; the Christmas we began foregoing family presents to gift each other with presence instead—the gift of time—deciding to cram our three kids and ourselves into a Motel 6 in Durango, Colorado so we could ski and snowshoe and play on the slopes of Purgatory's snowy peaks.
But let's face it, Christmas involves much more than watching It's a Wonderful Life, stringing popcorn garlands, gifting and receiving beautiful packages while drinking warm cocoa. The Christmas season is often very complex and even painful, particularly for those negotiating unhealthy family dynamics (which is most us of to some degree or another). I've had several police officers tell me that Christmas is their busiest and saddest time of the year, marked by dramatically increased assaults, domestic violence, suicides, and alcohol fueled crime. So how does one negotiate this season with a dysfunctional family? How can you have a joyful, meaningful Christmas when you are confronted with unhealthy, perhaps even unsafe family members? I'd like to make four suggestions for making Advent healthy even if your family is not.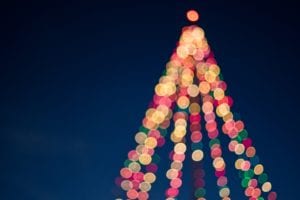 1. Stay focused on the true meaning of Christmas.
In our culture Christmas has become very sentimentalized and commercialized. This robs it of the true meaning and is particularly painful for those who are already hurting. Advent ("coming") is the awesome reminder that our warrior King has come and is coming again. It is not the sappy celebration of an innocuous, impotent "sweet little Jesus child." After all, baby Jesus was so threatening, even as a baby to his contemporaries, that they slaughtered infants in an effort to get rid of him. Rightly understood, Advent directly responds to the pain many feel during this season—memories of abuse, loneliness, or painful family gatherings where one's personhood, needs and convictions are not respected. The Jesus we celebrate was not understood by his own family, so he can identify with those experiencing similar pain. His brothers thought he was insane (Mark 3:21). Most importantly, Jesus came and will come to bring justice—putting everything back the way it is supposed to be. Isaiah declares that the coming Messiah will not rest until he establishes justice over all the earth (Is 42:4). Jesus, the one we celebrate this season is the Prince of Peace (Is 9:6). That isn't trivial peace but the peace that comes from removing all evil, sin, and disorder from all of creation. Advent reminds us that the King who came 2,000 years ago is soon returning to finish the restoration he started. He will heal every wound, mend every sick family, and remove all evil. He came and will come to make all things new (Rev 21:3-5).
2. Let Jesus be your model—of loving with grace and truth.
The Apostle John tells us that when Jesus took on flesh and came into the world, he was "full of grace and truth" (John 1:14). This is the perfect goal for all of our Christmas season interactions, particularly the difficult ones. Christmas often forces us to spend time with people we don't enjoy, people who may have hurt us very deeply. So, we should ask God to empower us to not allow others' evil to become our own, to not seek revenge, but instead, to extend kindness to others (Rom 12:17-21). At the same time, Jesus was known for his ability to speak truth. Grace doesn't mean distorting reality or calling black white. Jesus called sin what it was, sin. He confronted evil. He didn't allow others in his family or community to distort reality (Matt 23). Jesus validates our right to speak truth in unhealthy families.
3. Set healthy boundaries and communicate them clearly and graciously.
This is a logical application of the previous point regarding focusing on grace and truth. Dysfunctional families, by definition, have unhealthy traits and actions. Thus, relating in a healthy way in a dysfunctional family will necessarily involve setting healthy boundaries. Otherwise, others unhealthiness will become our own. It is particularly important to set boundaries around unsafe, abusive people to protect the vulnerable (Job 29:12-17). These boundaries need to be communicated clearly and graciously. Dysfunctional families lack healthy communication. They tend to have many unspoken rules that everyone is supposed to follow even though they are never directly spoken or discussed. Great pressure is often brought to bear on those who challenge the family rules or myths. At the end of the day, we answer to God, not to our extended family. Jesus alone is our savior and king. Under his lordship, we have every right to set boundaries for our own, and our loved-one's well-being. Here are some examples of healthy, gracious boundary setting with unhealthy family members: "I/we would welcome you and Uncle John to come to our house on Christmas Eve as long as you both agree to wait until afterwards to do your Christmas drinking. We want to have a meaningful, encouraging time together which can't happen unless everyone is completely sober." "I would love to come over Christmas day with the kids as long as Grampa is not there. We do not believe he is safe around children. You don't have to agree with our conviction, but we ask you to respect them. You can have Grampa over to your house any other time you like. Can you agree to this?"
4. Reach out to others
Those who find themselves in dysfunctional families can feel very isolated and lonely during the holidays. God made us relational beings in his image, so it is essential that we connect with other safe, healthy people. Resist the temptation to feel shame for being born into an healthy family. Ask God to provide a few healthy friends you can reach out to. Ask God to show you a few other lonely people from dysfunctional families that you can reach out to and include in your holiday events. One of the most beautiful things about being a follower of Jesus is that we gain a new spiritual family (Eph 2:18-19). So, ask God to help you take advantage of this blessing and reach out to others. Christmas is a beautiful time to include others who do not have healthy families into yours.
In summary, Jesus has come and is coming to redeem everything that is broken. We celebrate his coming this Advent season. By his grace, this can be a life-giving time of year regardless of how broken a family we have come from. We celebrate the one who brings beauty from ashes — who transforms mourning into joy.
"I allow these memories – painful as they may be – a home within me. I'm at peace with the body I inhabit and the mind I possess. And more than anything, I trust the plan laid out for me. In this, I take comfort in the promise provided by Rene Denfeld:

'It will be people like us that safe the world, she said: those who have walked the side of sorrow and seen the dawn.'"

-Luke Tracy

________________________

Luke is our son and he's writing about the secondary trauma he carries because of his work in child welfare (Portland, OR) and the original trauma our family experienced that God has and is redeeming through MTS.
Let this Christmas be the year in which we choose to live every day deliberately in the spirit of advent—waiting and watching for the coming of our King, our Savior who will make all things new.
Maranatha! Come quickly, Lord Jesus.
With love and gratitude for you and the Savior whom we celebrate,
Steve and Celestia