"When we put our problems in God's hands he puts his peace in our hearts."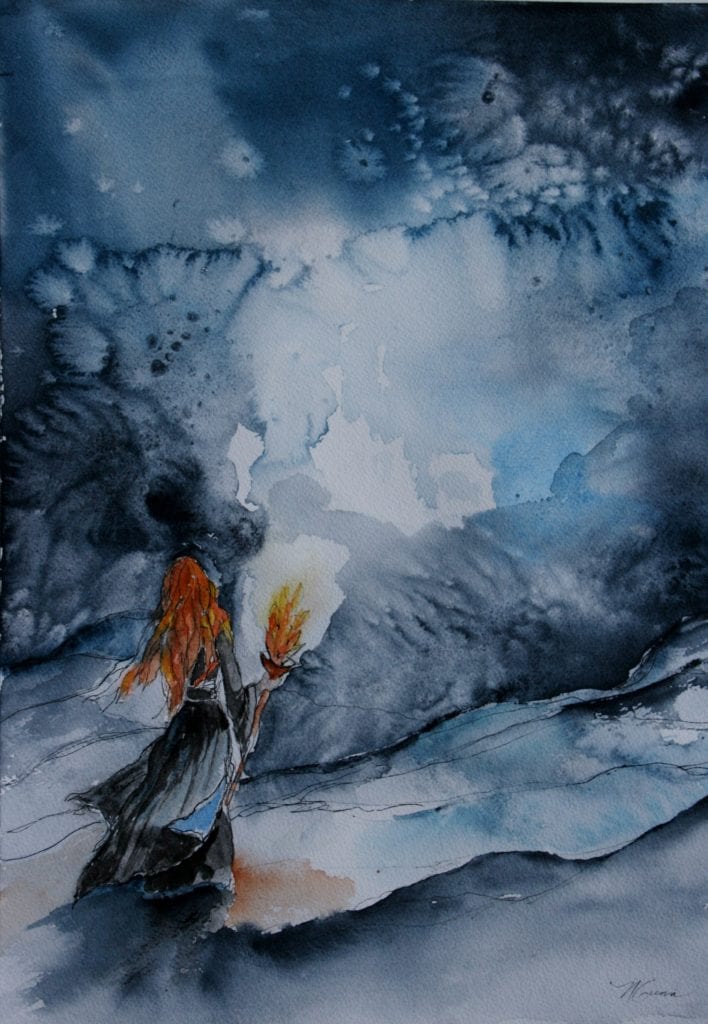 We are just now coming to understand how easily and rapidly the coronavirus can spread. But this pandemic has shown us that there is something else that spreads even more easily and rapidly—fear. It can sweep through the population like a raging wildfire. Once we become infected with fear, it will quickly overwhelm our hearts and minds. And let's face it, there is much to fear right now. The good news, however, is that our fear can be a powerful tool for growth and healing.
Psalm 34 was birthed in a matrix of great danger and fear. This psalm is one of the few psalms which gives a specific occasion for its authorship. David wrote it when he was fleeing for his life from homicidal King Saul. In desperation, David went to the Philistine city of Gath. The Philistine ruler, Abimilech, hated David as David had previously killed the Philistine hero Goliath. David pretended to be insane, drooling on himself acting completely mad, hoping this would cause Abimilech not to kill him or turn him over to Saul. David's ploy worked and Abimilech threw David out of Gath, reasoning that he already had enough home-grown crazies to deal with without letting a foreign mad man into the city. It is quite instructive that David did not take the credit for rescuing himself through his clever scheme. Rather, he recognized that, ultimately, God is the one who delivered him. Almost twenty times in Psalm 34 David uses terms related to fear, danger, and rescue ("fears"; "troubles"; "brokenhearted"; "crushed"; "delivers," etc.). So, there is much in this chapter to teach us about overcoming and using fear to deepen our walk with God.
Psalm 34 gives us three ways to let our fears become tools for growth:
1. Let fear drive us to praise God for who he is and what he has done for us in the past (vv. 1-3)
1 I will bless the Lord at all times;
his praise shall continually be in my mouth.
2 My soul makes its boast in the Lord;
let the humble hear and be glad.
3 Oh, magnify the Lord with me,
and let us exalt his name together!
Fear gives us tunnel vision; it blinds us. We must fight this by actively ("continually," v. 1) praising God. In the Psalms, the authors repeatedly praise God for who he is and what he has done. How does this relate to fear? Fear involves anticipated harm regarding something that hasn't yet happened and may not happen. Praise is a recognition of what is actually true—who God is and what he has really done in the past and thus can do again. It is significant that David in v. 3 magnifies the Lord. This is a stark contrast to fear—which magnifies potential (not necessarily real) dangers.
2. Let fear drive us to pursue God (vv. 4-7)
4 I sought the Lord, and he answered me
and delivered me from all my fears.
5 Those who look to him are radiant,
and their faces shall never be ashamed.
6 This poor man cried, and the Lord heard him
and saved him out of all his troubles.
7 The angel of the Lord encamps
around those who fear him, and delivers them.
Notice that David implores us pursue God, to look to him, to cry out to him. Fear paralyzes. Instead, we must let our fears drive us to God, the only one who can deliver us. David fought against the natural emotional paralysis of fear, for he tells us, "I sought the Lord." In pursuing/ seeking God and taking our fears to him, we keep reminding ourselves how much bigger he is than our fears. In doing so, we affirm that he is the only one who has absolutely every resource we could even need. Notice in v. 7 David's reference to "the angel of the Lord." Roughly 60 times in the Old Testament we read about this individual who often delivered God's people from great danger. For instance, the angel of the Lord in Hezekiah's day killed 185,000 Assyrian soldiers in one night (Is 37:36). God doesn't have to show us how he will deliver us for us to go to him in trust and put our needs and fears into his hands. Fear continually tells us that we don't have what we need. It cries out that things will probably get much worse and we won't be able to handle the terrible things we are about to experience. This is precisely when we must pursue God.
I appreciate David's honesty in this passage. The Hebrew word he uses in v. 4 for "fear" means "terrors." David was scared to death. He was feeling incredibly weak. He describes himself in v. 6 as "this poor man". Again, in his weakness, David fought against paralysis and despair by running to God and crying out to him. And God answered David's cries just as surely as he will answer ours.
3. Let fear drive us to experience more of God (vv. 8-22).
8 Oh, taste and see that the Lord is good!
Blessed is the man who takes refuge in him!
9 Oh, fear the Lord, you his saints,
for those who fear him have no lack!
10 The young lions suffer want and hunger;
but those who seek the Lord lack no good thing.
15 The eyes of the Lord are toward the righteous
and his ears toward their cry.
16 The face of the Lord is against those who do evil,
to cut off the memory of them from the earth.
17 When the righteous cry for help, the Lord hears
and delivers them out of all their troubles.
18 The Lord is near to the brokenhearted
and saves the crushed in spirit.
19 Many are the afflictions of the righteous,
but the Lord delivers him out of them all.
20 He keeps all his bones;
not one of them is broken.
21 Affliction will slay the wicked,
and those who hate the righteous will be condemned.
22 The Lord redeems the life of his servants;
none of those who take refuge in him will be condemned.
Experiencing God is an extension of the previous point of pursuing God. "Taste" indicates we must reach out to God in faith. I can know, theoretically, that Celestia is a great cook, loves me, and has a wonderful meal ready for me. But until I actually sink my teeth into the food, I won't experience what a great cook she is and what a nourishing meal she has prepared for my benefit. Fear can force us to experience God in much deeper ways than we otherwise would because in our tenuous situation we realize he is our only hope. We are desperate for him, hungry to experience him. Notice the various ways David experienced God in the face of his fears. He experienced God's attention (v. 15), God's compassion and presence (v. 18), God's deliverance (v. 19), and God's redemption (v. 22).
Conclusion
The afflictions of the righteous are many (v. 19). God never promised to keep us from experiencing severe trials in this life. But he does promise that he is near to the brokenhearted and saves those crushed in spirit (v. 18). May we allow the countless fears unleashed by the coronavirus drive us to praise, pursue, and experience more of God.
With love and gratitude for each you,
Steve and Celestia
Lord, high and holy, meek and lowly,
Thou has brought me to the valley of vision,
where I live in the depths but see thee in the heights…
Let me learn by paradox
that the way down is the way up,
that to be low is to be high,
that the broken heart is the healed heart,
that the contrite spirit is the rejoicing spirit,
that the repenting soul is the victorious soul,
that to have nothing is to possess all,
that to bear the cross is to wear the crown,
that to give is to receive,
that the valley is the place of vision.
Lord, in the daytime stars can be seen from deepest wells,
deepest wells,
and the deeper the wells the brighter
Thy stars shine;
Let me find Thy light in my darkness,
Thy life in my death,
Thy joy in my sorrow,
Thy grace in my sin,
Thy riches in my poverty
Thy glory in my valley.
—A Puritan prayer from The Valley of Vision